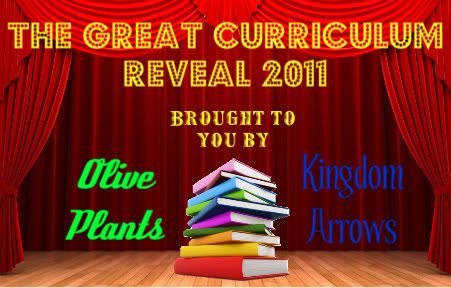 Homeschool Dawn and I LOVE planning for our new school year and I know some of my readers do too!
We decided to sponsor a "Great Reveal Blog Hop" where we can tell each other our plans for the fall. We are going to do it on Monday, June 6. Please tell others since we LOVE to read what other people are doing for the fall and steal a.k.a. adapt, others ideas. So, pull your resources together, find your links, and HOP WITH US!
On June 6, write your post and come back to Kingdom Arrows and post your link.

To participate, write a post or create a page on your blog telling us
all about your curricular plans for next year, 2011-2012. You can add
pictures and links to products if you want. Then link in at Kingdom
Arrows on Monday, June 6.

In return, we ask that you do three things:


Display our picture header in your post or post the button in your side bar. You can grab the picture from above or the button code over in my sidebar.
Link to Kingdom Arrows. If you display the button, that's already done for you!
Link to Olive Plants somewhere in your post. You can mention that I am the co-hostess if that helps.
Here are my favorite pics for the last 3 days.
This is the USS Wisconsin. We took this for Poppie, Aunt Wyndy and Aunt Pat!
We are riding in the Governor's Carriage. I will not admit to how much I paid for this 15 minute ride:)
Joy-Bug and Dad taking dancing lessons just like Felicity!
Only a tiny representative of all the weapons in the foyer for the Governor's Palace. Little Guy made sure I got his picture in front of several weapons. It is fun having a boy!
Heather