Susan from
Learning all the Time
has a fun Meme called Favorite Resource of the Week. I was so inspired by some new pencils I started buying in March that I could not wait to participate.
And then March, April and May happened.
Remember... blog hiatus.
Anyway, here they are. I buy mine at Staples but Amazon has them too! For cheaper!!
I pay $2.99 a box at Staples and pay tax. Amazon has them for $2.49 for 12 pencils, with FREE SHIPPING.
These pencils have three sides, so it makes it much more natural to hold the pencil in a "normal" pencil-hold. Even my 13 year old prefers these pencils, since she has always struggled with a proper pencil hold. They are three sided, but sharpen in a regular pencil sharpener. The other important detail is these are such smooth writers. Now, I am one of those people who uses free pencils, or gets free CVS pencil boxes when I buy other things. Not any more. I throw out any pencil that is not the Ticonderoga brand. We actually used these pencils for some of our
Drawing with Children
pencil drawings because they are so smooth. AND THEY DON'T BREAK!
I am still trying to convince my 13 year old of the importance of a good pencil hold. I know from experience that it slows you down in notetaking and makes your wrist hurt if you don't hold your pencil correctly.
If you are a mom of young ones, they have the "fat" pencils, called "My First Tri-Write" pencils. Amazon only has them in a 36 pack, but I am not kidding, I have already bought 36 of the others. Pencils vanish like shoes and socks at my house!
Heather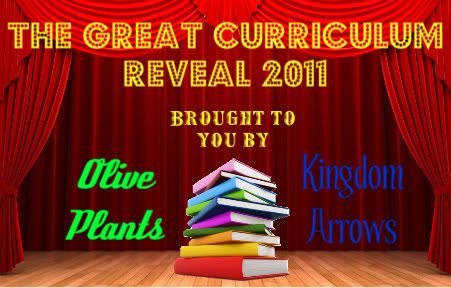 Don't forget about the Great Reveal Blog Hop that Kingdom Arrows and Olive Plants are sponsoring this week. Blog about your upcoming year and hop on over here.