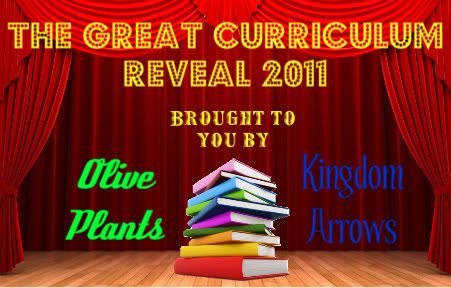 I know you have been waiting with baited breath to see what Kingdom Arrows has put together for our 2011-2012 school year! OK, maybe not. But, I have! Here it is. Of course, you know that a list like this does not come together without much prayer, research, consulting friends, speaking with curriculum writers, etc. This process of planning my school year usually takes about 2 months.
*GASP*
But, for me, and other moms who shall remain nameless, it is almost a hobby, and an enjoyable way of life. It is also one of the many reasons I wanted to homeschool. I know there are certain curriculums whose goal is being able to "open and shoot." And, I wanted you to hear it from me, that is GREAT. I am thankful those Christian writers and developers are out there. Many people don't want to pull it all together, or they have more than four children, or they need to work part-time while they homeschool, or they are a single mom, etc. So, these companies are meeting a valuable need in our homeschool community.
But, here are the plans for Kingdom Arrows.
Kae-Kae
,
grade 8, 13 years old
Sonlight, core 200- Church History and Literature. This is OUR FIRST HIGH SCHOOL CREDIT!! Under our umbrella school, we can count this as high school world history. Sonlight has a weak writing component, but Kae-Kae is so strong in writing, since doing IEW for six years, we will just be doing some additional assignments.
Latin Alive, Book A- OUR SECOND HIGH SCHOOL CREDIT! I tried teaching the first lesson and threw in the towel. I bought the DVDs, and that was a good plan.
Singapore Math- Lord willing, books 4A-6B, over the next 15 months. Remember, we have had a crash course in math this year, leaping from second grade Math-U-See up to Saxon 7/6. Thanks to Dawn, as I was thinking about starting pre-alegebra this fall, I decided to schlep over to the Singapore website and see what in the world was such a big deal about this curriculum. Well, (hanging head), I realized that being one-third of the way through Saxon 7/6 got us to the end of Singapore 3B. Yep! Those Asian countries are serious about their math. So, we are doing a double tap year to plow through all this math and get Kae-Kae ready for Algebra next fall. Oh, I and I will let you in on a secret- it is going to be Video-Text Algebra. Go check it out, it may change your life.
Rainbow Science-finish year one and do as much of year two as we get to before high school science. This is a well-written course, and is stretching Kae-kae more than any other science course I have seen. She reads it and usually can't answer the questions, so I skim it and we talk through it. The whole first semester is physics, which is an entirely new area for her. Also, the teacher's guide is thorough and I recommend it. This is written to be a seventh and eighth grade curriculum, and I believe it.
Continue working through Phonetic Zoo- A
Extras- The Thinking Toolbox, Analogies 1 and 2, 4-H, nature journaling, weekly art lessons
Continue with flute, piano, and begin ballet again. Kae-kae earned one of two partial flute scholarships for the fall at the college where she takes lessons!
Joy-Bug
,
grade 3, 8 years old
Josuha through Malachi and Ancient Greece, from Simply Charlotte Mason
Right Start Math, level D
Institute for Excellence in Writing- starting her on the Unit 1 and 2, Key word outlines, etc.
All About Spelling, finish level 2, go to level 3. I am now an affiliate, so click through on my side-bar to purchase it and I make a little egg money.
Animals and Their Worlds and other nature journaling, weekly art lessons
Pinao, Ballet, 4-H
Gracie-Girl, grade 1, 6 years old
Josuha through Malachi and Ancient Greece, from Simply Charlotte Mason
Right Start Math, Level B
All about Spelling, finish level 2
Animals and Their Worlds and nature journaling
Ballet, 4-H
Little Guy- 4 years old
Animals and their Worlds and Nature Journaling
Whatever his big sisters do!
Soccer
Share your post with our Great Reveal Blog Hop all this week! This blog hop is co-hosted by Olive Plants. She has a fun giveaway this week, too. You do not have to have a blog post to participate!
Heather